Blog
Why Burger King failed at their 1st NFT - 12/01/2022
Lets start at where we stand and then go back through a high overview of the state of Burger Kings 1st NFT launch.
Why do you think some companies fail at web3?
https://realmeals.sweet.io/ they have no forwarding setup to the 2nd market available nfts of their collection for any collectors that might of missed the collection and would want to pick up the King or the Crown or any of the celebrities that were featured in the #keepitrealmeals to help with potential sales
https://opensea.io/assets/matic/0x6137762be4343abd6d6a6dfe48c1231efd0838a6/328 this is a link to the individual page (this is one I collected by going to Burger King and scanning the box and picking up one of the meals) this page which in itself looks ok except for the title of the collection you will notice the title The King - GOFerTTAQ4 for the collection instead of just The King this displays on each individual page for each nft so that should be an easy fix.
The creator fee is 0 % while there is some discussion on royalty collection and how that might be treated by government agencies in the future and I could understand them coming back to say liability wise they didnt want to charge collectors/customers, you have stepped into the NFT market with this release so little late to show concern for NFT being held to a security. I will say it has come to be accepted by collectors that to help support marketing of and continued collections i.e. websites, servers, programmers who work on the NFTs that royalty is charged. If you were going to not charge a royalty that is a marketing in itself that should of been and could of been pushed on socials.
All of the NFT collections have no banner on the collection page
Sweet the 3rd party that partnered with Burger King didn't allow transfers on most accounts until recently from their sweet wallets they only allowed people to trade not purchase these NFTS on the marketplace for other NFTs. It was a good idea to get into NFTs for Burger King I feel but the way it looks and feels looks like it was an attempt to get people to buy something Burger King wouldn't support with this NFT collection and used NFTS to get people to buy a meal as a one off instead of trying to help build their brand through the NFTS and have future releases.
I would question why they didnt touch base with media partners when people were starved for NFTS stories at the time, why not go to coinmarket cap, coin gecko, coin desk, decrypt and the like for nft news to have articles written more than they did, why not have the NFT within the original commercial spots, they are a national brand and could of leveraged their influence to drive the NFT collections popularity, in app scan was short lived and could of had been more of a draw push features enabled to drive NFT box scans and in the end sell more meals. If you were looking on socials you would see employees were unaware of the campaign and didn't know what people were asking for with the boxes and or didn't have them in stock when the posters were at the stores.
This is not the norm unlike other NFTS that are available to be purchased and This was released a year ago now so they didnt take advantage of the drop to support the 2nd market and or collectors who were excited that Burger King as a brand entered into the NFT space instead they self contained in the Sweet wallets and lost all buzz and excitement for the collection by not allowed decentralized exchange and you cant move to your wallet to oh lets say use in a nft gallery for example. Here is a gallery I have not made via Oncyber galleries https://twitter.com/CavsTheBlockFan/status/1586929031705989120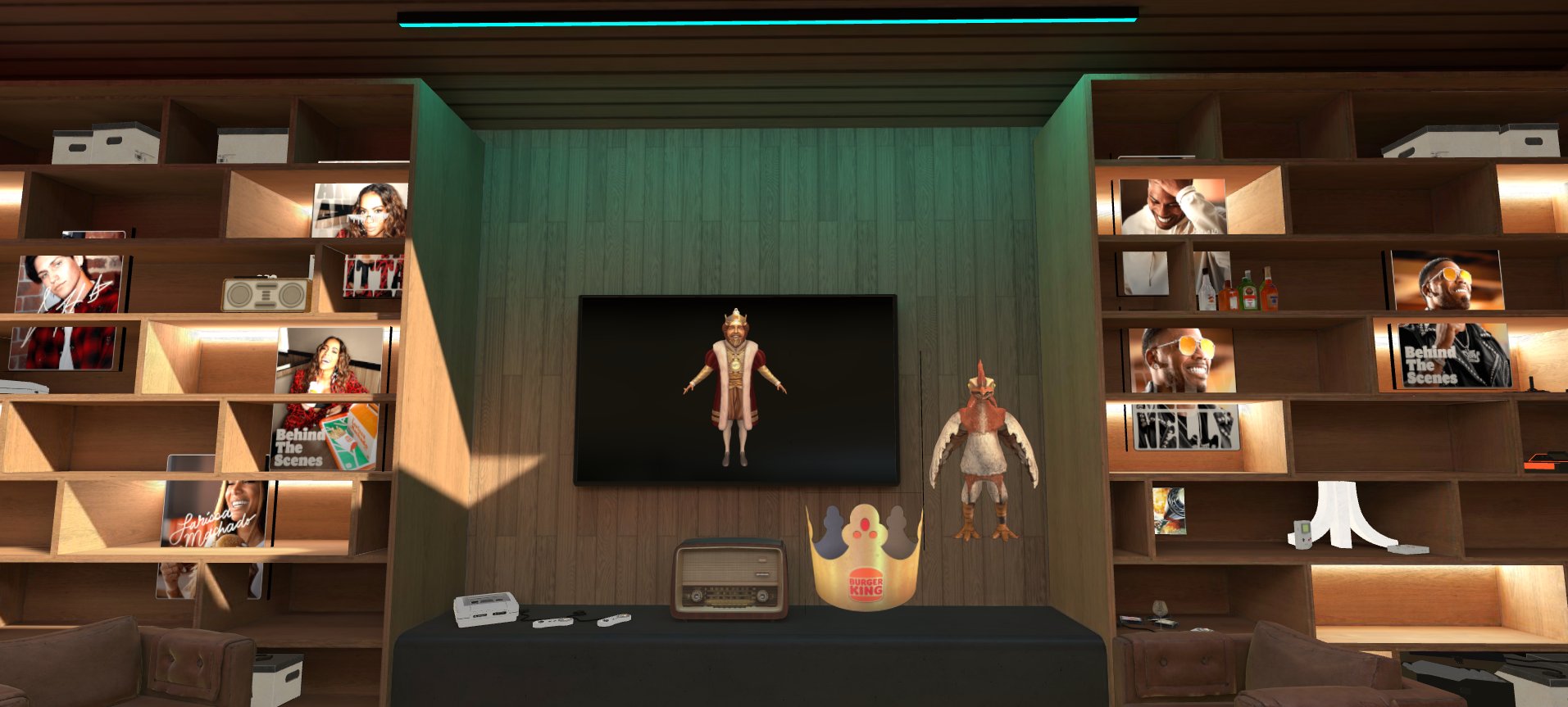 When looking at the token on polygonscan there is at least a label there of the king but again, no socials listed making this not look legit when being reviewed by anyone that looks at this link off of opensea which is currently the highest volume nft marketplace. They also havent verified their code on the contract and shows that here... https://polygonscan.com/token/0x6137762be4343abd6d6a6dfe48c1231efd0838a6#readContract
There is also poor interaction with metamask one of the most downloaded wallets to interact with, lastly the 3d nft only seems to work within the sweet wallet so to my mind thats poor programming and design as when you could interact with the nft in galleries where 3d nfts can be display its not though of by creators of this nft to make sure it works outside of sweet to be fully interoperable.
The Emperor Wears No Clothes at Twitter - 11/30/2022
I think personally that Elon Musk is a great salesman and does come up with some creative ideas from time to time along with other great minds that he is wise enough to hire. I dont think he ever intended to buy Twitter, I think he took a stock portion and wanted to get a return on his stock purchase and wanted to see some changes at Twitter but when he tweeted that he was going to take private and at what price he had done the same thing with Tesla previously SEC removed his position within the company as a result. https://www.nytimes.com/2018/09/29/business/tesla-musk-sec-settlement.html
I had owned a small amount in retirement of Twitter shares before years ago when they hadn't yet turned a profit ever, I looked at them as a stable in social media that wouldn't go anywhere you can turn on ESPN and find # this or that.
I have used Twitter a good bit over the years so not happy to see the gutting of the company by Musk hands which included those that would have direct reporting on safety to the government agencies, this I believe shows the flaws in such a founder running a company that's not really a CEO. I at first thought this was to move the debate up on section 230 about liabilities of whats posted by members on social media and the responsibilities of those post and moderation under freedom of speech. This move is likely I think to bring heavy lawsuits against the company and Musk, you might of heard he went back to some he fired once he found out what it was they actually did and many said no thank you I will take my sever package. I now cant understand how you take over a company and first week fire people before you know their role at the company.
You might have also heard many left when he said plan to work long hours or leave. https://www.bbc.com/news/business-63648505 so they are leaving.
I understand their is a open investigation now to the ties to Saudi government funding of Elons companies including Twitter and if they are provided private direct messages access within the company. https://www.axios.com/2022/10/31/chris-murphy-twitter-elon-musk-saudi-arabia I support this move and I support the investigation of TikTok for security issues. https://www.cnn.com/2022/11/02/tech/fcc-commissioner-tiktok-ban
I have hopes that Elon Musk wont use the personal messages from Twitter to feed his GTP3 openai https://openai.com/ machines which could then be fed for learning purposes via neural network on communications which could lead to https://neuralink.com/ chip implants into humans based on learning from communications and data in part from Twitter, I would say as much as I find Twitter a tool to look up news at a given time in no way would I want it to be used as a data source for history or truth of facts. I hold very little regard for our regulators in the way of regulation on this matter Musk has laid out just how anyone could go ahead and do whatever they want in AI and regulation cant catch up https://www.youtube.com/watch?v=Zdy6m3pvdNE I did watch Elon Musk on the Joe Rogan show and he talked of how he tried to warn anyone that would listen about AI and that it could be used as a weapon only to find no one doing anything about it and he resided himself to a "fatalistic" view this is who is heading the AI movement in large part with OpenAI Neuralink.
https://medium.com/@CavsTheBlockFan - 11/29/2022
I have since starting crypto research looked at many Medium articles if you havent tried them out they have some nice features with the layout of their blog and have many topics that are covered. I found many articles on what Blockchain was and what coins features are for projects along with NFTs and insights from Coinbase blog on their investments and activities.
I think that the read aloud feature is a nice touch to the blog, you could listen to it in the background and multi task.
There had been in the past giveaways for NFT and or coins if you followed projected Medium accounts so I believe thats when I started my profile some time ago but never written anything on my profile so this week I decided to syndicate out my ActiveRain blog to cover the NFT post I wrote on ActiveRain posting those now to Medium.
https://medium.com/@CavsTheBlockFan
https://okaloosamls.wordpress.com - 11/28/2022
I have shied away from mentioning other blogs on ActiveRain as I am not looking to pull any traffic away from AR to any other sites, I do find a decent amount of search engine power still behind the ActiveRain blog and have posted over 3,000 blog post there myself.
So I have put in the time and effort to try to get some traffic to this blog and I dont just stop at that, I post AR post from time to time to Twitter, Facebook/Meta, Linkedin, Instagram, now https://medium.com/@CavsTheBlockFan
and for a long time I posted the AR links and or same post to
https://okaloosamls.wordpress.com/
1604 River Rd Caryville FL 32427 acreage 30+ just listed REO - 10/21/2022
| | |
| --- | --- |
| | |
| Address: | 1604 River Road, Caryville, FL 32427 |
| County: | Washington |
| Area: | 30 - Other Counties |
| Sub Area: | 3005 - Washington County |
| Project Name/Subdivision: | Carryville |
| Zoning: | Agriculture |
| Parcel ID: | 00000000-00-6101-0001 |
| Elementary School: | Not Available |
| Middle School: | Not Available |
| High School: | Not Available |
| Apx SqFt(Htd/Cooled): | 2,304 |
| Price/SqFt: | $65.10 |

| | |
| --- | --- |
| Bedrooms: | 4 |
| Total Baths: | 3 |
| Full Baths: | 3 |
| Half Baths: | |
| Design: | Ranch |
| # Stories: | 1 |
| | |
| | |
| | |
| | |
| Year Built: | 1989 |
| | |
| | |
| Construction Status: | Construction Complete |
| | |
| SqFt Source: | County PA Records |
| Pool: | No |
| Pool Type: | None |
Directions: Take I-10 East to Exit 104. Head South on Hwy 279 approximately 4 miles to Right on Hwy 280. Continue approximately 4.5 miles to Right on Hwy 284.
Legal Description: Metes and Bounds
Real Estate Owned, you can have the best of both worlds convenient to Interstate 10 exit approximately 5 miles away with this home sitting on over 30 plus acres included enjoy the tranquility of the country. Located less than an hour from the award winning beaches. Lots of room with a covered back deck, front deck with sitting area. This 4 bed 3 bath includes over 2300 sq ft built in 1989. Large spacious pantry just off the kitchen. Lot dimensions taken from tax rolls. Lot size and house dimensions t be verified by buyer. If you need more space this is the place this property sits close to the Choctawhatchee river water management area that offers large floodplain forest boat launches & fishing, plus camping, hiking & seasonal hunting. Call to take a look at 1604 River rd today.
| | | | |
| --- | --- | --- | --- |
| 909978- Residential Detached Single Family - Active | | | $150,000 |
145 Beachfront Trail Santa Rosa Beach FL 32459 - 09/04/2022
907456 - Residential Condominium
Best priced condo south of 30A. Location, Location, Location. This updated 1st floor move in ready vacation studio sleeps 4 in Seagrove Beach. The building has all major capital improvements completed including new siding and roof. Relax on the balcony with southern exposure that captures the Gulf breeze, or take a short walk to the white sand beach. The fully equipped kitchen features stainless steel appliances and solid surface countertops. This quaint pet friendly condominium Beachfront 2 with only 33 residences features an inviting heated swimming pool, hot tub, on-site laundry, elevator, large pavilion, grills and lovely landscaped grounds with tall palms. Great rental history 37k gross. Conveniently located minutes from dining and shopping at the Coastal Town. Welcome to Paradise
1032 Whitehead Dr Holt FL 32564 REO 79,900 - 09/04/2022
906280

Full - Residential Mobile Home -

Active $79,900
| | |
| --- | --- |
| Office File #: | |
| Address: | 1032 Whitehead Drive, Holt, FL 32564 |
| County: | Okaloosa |
| Area: | 25 - Crestview Area |
| Sub Area: | 2510 - Baker & Milligan |
| Project Name/Subdivision: | METES AND BOUNDS |
| Zoning: | Agriculture |
| Parcel ID: | 36-3N-25-0000-0003-0080 |
| Elementary School: | Baker |
| Middle School: | Baker |
| High School: | Baker |
| Apx SqFt(Htd/Cooled): | 2,310 |
| Price/SqFt: | $34.59 |

| | |
| --- | --- |
| Bedrooms: | 4 |
| Total Baths: | 3 |
| Full Baths: | 3 |
| Half Baths: | |
| Design: | Mobile Home |
| # Stories: | 1 |
| | |
| | |
| | |
| | |
| Year Built: | 2006 |
| | |
| : | |
| Construction Status: | Construction Complete |
| | |
| SqFt Source: | County PA Records |
| Pool: | No |
| Pool Type: | None |
Directions:

From Crestview Take I-10 to the Holt exit, turning north onto Log Lake Rd (189) turn right onto highway 90 in 4 miles turn left onto
Galliver Cutoff , Whitehead dr will be on your right.

Legal Description:

COM NE COR NW1/4 OF NW1/4 W420 FT S260 FT TO POB S332 FT W236 FT N21 DEG E322 FT
TO R/W E ALG R/W 130 FT TO POB
Remarks:
Real Estate Owned. Enjoy the tranquility of the country close to town! Only minutes from canoeing, fishing, hunting and river
enjoyment!! This 4 bedroom 3 bath spacious manufactured on approx 1.3 acres offers a split floor plan with two living areas, an eat in
open kitchen with breakfast bar to dining and living room. Additional features include a fireplace in the great room large enough for the
whole family. Cathedral ceilings and separate laundry room. Three full baths the master suite hosts a master bath with garden tub,
separate shower and double vanities. Sliding glass doors to back deck off of the dining room as well.
This terrific floor plan offers four bedrooms lots of potential. Call to take a look at 1032 Whitehead dr today.
View my oncyber gallery today https://oncyber.io/northwestfloridarealtor - 07/29/2022
https://oncyber.io/northwestfloridarealtor
Brandon Jordan is now certified in real estate blockchain via REConsortia - 07/24/2022
I just got my certificate and have my practitioner nft as well. I found out about this company and new course released in the last month from researching blockchain and doing a search on NARs articles by the REACH division, researching a little more I found NAR has a venture capital arm and they invest in startups. I minted my own nft sometime ago with another project so this just seem to be a good fit for me. I do believe in the future of transactions being routed through public/private blockchain with title already on chain and banks required through Dodd Frank to have assets on chain its good to be in line for when banks are looking who is on a certain network. I am one of the first 150 in the nation to be certified in real estate blockchain.
The only SEC and RESPA compliant blockchain solution in compliance matters Consortia is the only NFT and training solution led by an SEC registered investment banker, real estate broker and mortgage loan originator. "We focus on SEC rules, RESPA, and good funds laws to protect the industry." -REConsortia
My QR code Brandon Jordan Realtor - 07/06/2022
1...
|
3
|
4
|
5
|
6
|
7
|
8
|
9
|
10
|
11
|
12
|
...43